Erion is one of the few companies providing Samba training in the UK or the rest of the world. We have over sixteen years of experience of providing Samba training. Our trainers have been working with Samba and related technologies for over fifteen years.
In addition to our long track record with Samba we are also very proud of our training materials. Our standard Samba course (listed below) has been developed over many years to cover just those areas that Samba administrators most need to know and understand. Since Samba brings together the very different worlds of Unix and Windows our materials cover in detail the aspects of each platform that are key to fully understanding the operation of Samba.
Samba Training Options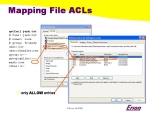 At Erion we have a number of Samba training options. We have a standard three day course (listed below) and we have other course material that we do not publicise. We can provide training through our scheduled public courses, as an on-site at your company or as a part of a consultancy package. The choice is yours.
We can also provide additional or tailored training depending on your specific needs. For example, we can provide advanced training on integrating LDAP and Kerberos with Samba, Samba training tailored for Solaris and specialist training on Samba integration with Active Directory. Please contact us for details and a quote.
Samba Training
Training on Samba the world's leading open-source implementation of CIFS/SMB and Active Directory protocols.
---