Erion's IPv6 Blog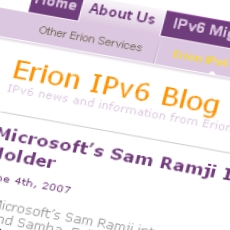 Erion's IPv6 blog is hosted on our IPv6 consultancy web-site. Our IPv6 blog contains information regarding our recent activities with IPv6 and updates on our IPv6 services.
Example entries from our blog can be seen below, for more entries visit our IPv6 blog at http://www.ipv6consultancy.com/ipv6blog
---
Recent Blog Entries
Google Cloud Platform Releases Alpha IPv6 Support on Load Balancers
Google have now joined Amazon and Microsoft in adding IPv6 support to their cloud platform. However, the service is not a native IPv6 offering. Both EC2 and Azure provide native IPv6 to VMs. In contrast, Google Cloud Platform (GCP) only supports IPv6 on load balancers.
At the moment GCP IPv6 support is an "Alpha trial". So it remains to be seen when it will become a production service and when Google will eventually deliver a native IPv6 service on GCP.
The leading cloud providers have been slow to provide native IPv6 support. It is only recently that Amazon and Microsoft have enabled native IPv6 support in EC2 and Azure. Even so, Microsoft's native support has limitations; address translation at the edge (NPTv6), no connectivity between VMs and an inability to add IPv6 to existing VMs.
It hoped that Google's trial will lead to a production service fairly soon but it is unclear when Google plans to deliver a native IPv6 service.
IPv6 Training in Scotland UK 2017
As the world's leading IPv6 training company, we are pleased to announced that we will be running some of our most popular IPv6 courses in Edinburgh, UK during 2017.
These include our comprehensive 5-day Implementing and Securing IPv6 course which covers all that you need to deploy and secure IPv6 in your networks.
Erion has over 19 years experience in IPv6. Over that time we have provided IPv6 consultancy and IPv6 training to leading organisations, enterprises and governments world-wide. Throughout the many IPv6 deployments and implementations that we have carried out we have consistently noticed two things; people underestimate the need for IPv6 training and IPv6 training is crucial to success.
Many assume that IPv6 is simply IPv4 with longer addresses. This is naive. Whilst the purpose and basic function of IPv6 is the same as IPv4; that is to route datagrams from a one node to another node (possibly on a different network), the features, functions, attributes and management of IPv6 are very different. Crucially, in many cases what is considered best practice in IPv4 is the opposite in IPv6. This means that staff with extensive experience of IPv4 have to have a change of mindset in order to successfully deploy IPv6.
For this reason, we have created the world's largest portfolio of IPv6 training courses, covering all aspects if IPv6, across many different platforms and for a wide range of audiences. Continuously updated to reflect the latest standards and best practice our courses are ideally suited to ensure that you are ready to deploy IPv6 in an efficient and safe. Thereby maximising the benefit to your business.
Full details of our upcoming IPv6 training schedule can be found here. Alternatively, we can run on-site IPv6 courses for you at your premises when we can tailor the training programme to meet your exact requirements.
May 2017 Schedule
We have just scheduled courses in May 2017 for Edinburgh, UK. This includes our Implementing and Securing IPv6 course on a range of different platforms including Linux, Cisco IOS and Windows.
Full details can be found at our IPv6 training site.
Please contact us for further details.
Native IPv6 on Amazon EC2 Instances
At long last Amazon have announced native IPv6 support for EC2 instances in Amazon VPCs. This is great news for those whose IPv6 deployments have been held back by the lack of native IPv6 support in EC2.
The IPv6 service was first released in a limited deployment in the US East (Ohio) Region back in December 2016. It is now available in all regions.
In Amazon VPCs, public IPv6 address bocks are assigned to VPCs in /56 blocks. You can allocated space out of an assigned /56 block to subnets and instances.
Instances are dual stack, that is they can use both native IPv4 and native IPv6. An instance can use IPv6 addresses to communicate with other instances as well as the wider internet.
In contrast with Microsoft Azure, Amazon is not using IPv6 network address translation (NAT). Azure uses a form of Network Prefix Translation (NPTv6) on their load balancers to map between internal and external IPv6 addresses. Azure is also limited in how IPv6 addresses can be used. You cannot assigned IPv6 addresses to existing VMs, whereas in Amazon EC2 you can assign IPv6 addresses to existing instances. In addition, in Azure, you cannot use IPv6 to communicate between VMs. In EC2 you can.
This is an important move forward in the deployment of IPv6. It is to be expected that the few suppliers who continue to provide a legacy-IPv6 only service will move to deploying IPv6 in the near future.
IPv4 Declared Historic - IETF Draft RFC and IAB Announcement
Further proof of the rise of IPv6 and the decline of IPv4 appeared yesterday with an announcement from the Internet Architecture Board (IAB) that IPv4 is to be declared historic by the IETF. The IAB expects the IETF to stop working on IPv4 and its associated protocols in the near future. Therefore, the IAB recommends that all organisations work to develop an IPv6-only strategy.
This follows closely on a recent draft RFC that moves IPv4 to historic status (draft-howard-sunset4-v4historic-00). Protocols that are moved to historic status are no longer developed by the IETF. This includes all protocols that are IPv4 specific.
These moves reflect the decline of the IPv4 internet and the growing deployment of IPv6. The exhaustion of the IPv4 address pool is severely restricting growth in the IPv4 internet. In addition, it has lead to the widespread adoption of address conservation techniques such as Carrier Grade NAT (CGN) and address transfers that have a negative impact on the function and operation of the internet.
All of these factors make it imperative that organisations look to deploy IPv6. The most common mode of deploying IPv6 is dual-stack. In a dual-stack deployment, IPv6 is usually added to an existing IPv4 network. This has many advantages and often eases the deployment of IPv6 into existing network infrastructure. However, dual-stack networks have some significant disadvantages. Deploying two protocols in a network more than doubles the complexity, increasing the resources required to operate, administer and secure the network. An alternative approach is to deploy an IPv6-only network. In an IPv6-only network, there is only one protocol (IPv6) to support, administer and secure. Furthermore, an IPv6-only network has none of the disadvantages of an IPv4 network, such as limited address space, NAT and CGN.
Support for legacy IPv4 services can still be provided in an IPv6-only network through the use of transition techniques such as NAT64/DNS64, NAT46, SIIT-DC, DS-Lite and 464XLAT.
So, now is the time to deploy IPv6 and to plan for a migration to an IPv6-only network. At Erion we have worked with many organisations to develop their IPv6 deployment strategies and to help them deploy IPv6-only networks today.
Erion has over eighteen years experience of providing IPv6 consultancy and IPv6 training services. We have extensive experience of helping a wide range of types of organisations plan for and deploy IPv6. Please contact us for further details.